How to choose the right size?
If you are not sure about your size, you can always use our SIZE GUIDE chart or use this instruction below how to avoid mistakes while choosing your exact shoe size
STEP 1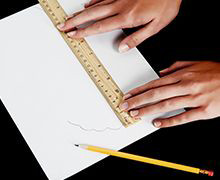 Stand up straight on a hard surface touching the heel wall. The floor attach a piece of paper in such a way that one of its sides touch the wall under your feet
STEP 2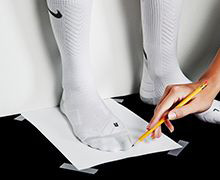 On a piece of paper mark with a pencil or pen point at which your foot is the longest (measured from heel to toe) or do it yourself. Do the same for the other foot, because the size of the right and left foot can be different
STEP 3
Using a ruler, measure the selected section from heel to toe on each foot.
Now you can using the measurements and the table below (Our size guide chart), determine your shoe size.
If you are not sure about your shoe size, we will be glad to assist you on phone 059 355 4796 or e-mail: info@isneaker.eu
Men's/Unisex
US
6
6.5
7
7.5
8
8.5
9
9.5
10
10.5
11
11.5
12
12.5
13
UK
5.5
6
6
6.5
7
7.5
8
8.5
9
9.5
10
10.5
11
11.5
12
EU
38.5
39
40
40.5
41
42
42.5
43
44
44.5
45
45.5
46
47
47.5
CM
24
24.5
25
25.5
26
26.5
27
27.5
28
28.5
29
29.5
30
30.5
31
Women's
US
4
4.5
5
5.5
6
6.5
7
7.5
8
8.5
9
9.5
10
10.5
11
UK
1.5
2
2.5
3
3.5
4
4.5
5
5.5
6
6.5
7
7.5
8
8.5
EU
34.5
35
35.5
36
36.5
37.5
38
38.5
39
40
40.5
41
42
42.5
43
CM
21
21.5
22
22.5
23
23.5
24
24.5
25
25.5
26
26.5
27
27.5
28
Child
US
0C
1C
2C
2.5C
3C
3.5C
4C
4.5C
5C
5.5C
6C
6.5C
7C
7.5C
8C
8.5C
9C
9.5C
10C
10.5C
11C
11.5C
12C
12.5C
13.5C
UK
0
0.5
1.5
2
2.5
3
3.5
4
4.5
5
5.5
6
6.5
7
7.5
8
8.5
9
9.5
10
10.5
11
11.5
12
13
EU
15
16
17
17.5
18
18.5
19
19.5
20
21.5
22
22.5
23.5
24
25
25.5
26
26.5
27
27.5
28
28.5
29
29.5
31.5
CM
7.6
8.5
9.3
9.7
10.2
10.6
11
11.4
11.8
12.3
12.7
13.1
13.5
14
14.4
14.8
15.2
15.6
16.1
16.5
16.9
17.3
17.8
18.2
19.1
Youth
US
1Y
1.5Y
2Y
2.5Y
3Y
3.5Y
4Y
4.5Y
5Y
5.5Y
6Y
6.5Y
7Y
UK
13.5
1
1.5
2
2.5
3.5
4
4.5
5
5.5
6
6.0
6.0
EU
32
33
33.5
34
35
35.5
36
36.5
37.5
38
38.5
39
40
CM
19.5
19.9
20.3
20.7
21.2
21.6
22
22.4
22.9
23.3
23.7
24.1
24.5